Posted by Jared Fewell on Feb 17th 2022
January 14-16th, I was able to take part and help instruct and participate in the Long-Range Hunting Course taught by Andrew Brady of Lone Star Armory. This course teaches the proper mechanics of marksmanship, shooting targets, and game at longer distances with learning the equipment you have available to you and how to utilize that knowledge and put it together to make a good shot.
On day one of the course, we took all the students and their gear to the range. We talked over their equipment and the advantages and disadvantages they may find with their current setups. Once we were able to look over the equipment, we started getting the students behind the rifles. We discussed correctly setting up in the prone position, looking at sight height and cheek weld on the stocks, and dry firing. Then we finished with getting the rifles zeroed at 100 yards and resetting the scope's turrets back to zero and zero stops setup.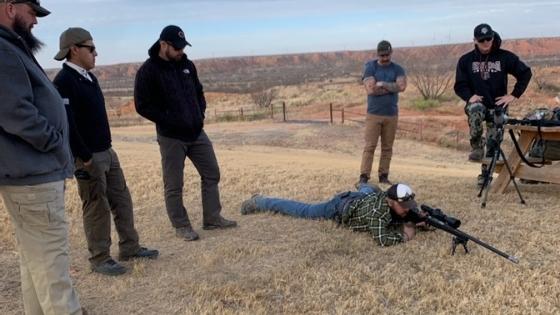 Day two was different because we fought a 25-40 mph wind and frigid temperatures. We got all the student's rifles velocity using a LABRADAR chronograph. After getting the data we needed, we made a data chart on each specific rifle, also known as a D.O.P.E. chart. We then learned about the differences in MOA vs. MRAD and how they can be utilized in different ways, such as measuring a target at different distances or holding over a target at the correct height to get a good hit. One MOA at 100 yards is 1.047", 200 yards is 2.094", 300 yards 3.141" and so on, where one MRAD at 100 yards is 3.6", 200 is yards 7.2", 300 yards is 10.8 inches, and so on. Taking this to the range, we were able to work with the students on moving out to farther distances. While fighting the wind, we still got the students on targets out to 600 yards that day. After dark and dinner, around the table, we discussed how all the information, when put together correctly, can help us make good calls when shooting at distance. Whether the goal is to get on target with a piece of steel or hunting at longer distances, this information helps boost a shooter's capability and confidence in taking the shot.
On the last day of the class, we took the students back out to the range. After getting the weather data updated and not fighting so much wind, the students were quickly back on targets starting at 300 yards. While their confidence grew, they took the information they had learned and were able to take their rifles and work targets all the way out to 1000 yards.
While many people do not hunt or shoot at distances such as 1000 yards, learning the proper techniques along with the knowledge and information to do so can make you a much better shooter and gain a lot of confidence in shooting, whether it be at a target or taking game in the field.
Curious about the benefits of night sights? Check out our defensive night sights blog here. Shop hunting rifle sights. Shop tactical rifle sights.
About XS Sights: XS Sights is known for making the fastest sights in any light. For more than 25 years, the XS team has created some of the most innovative sights on the market today for pistols, rifles, and shotguns. Whether used for personal defense or hunting, these sights are designed and built to be the absolute best for their specific purpose. American Made. Texas Proud. 2A Strong.