Posted by XS Sights on Nov 1st 2023
The HK VP9 and the Glock 19 are two extremely well-regarded pistols in the defensive space. The Glock is the reigning champion, being the darling of law enforcement, military, and special ops personnel, as well as one of the most popular concealed carry pistols ever. Introduced in 1988, the Glock 19 has been around for three and a half decades, achieving incredibly widespread adoption.
The VP9 is a striker-fired, polymer-framed pistol from venerable German gun-makers Heckler & Koch (HK). Younger than the Glock 19 by a quarter of a century, the VP9 is a trusted pistol and has gained tremendous popularity among shooters in the United States. There are some differences between these two guns which we will discuss in more detail, but both share a lot of similarities. This article will compare the HK VP9 vs the Glock 19 with the goal of giving you the knowledge to make an informed decision between the two popular pistols.
In-depth Analysis: HK VP9
The VP9 is a striker-fired pistol chambered in 9mm Luger. It is an accurate, reliable pistol with a polymer frame, steel slide, and cold, hammer-forged barrel. Holding a standard capacity of 17+1, the VP9 competes well against most modern semiautos. The HK VP9 was introduced in 2014 as a redesign of HK striker-fired pistols (in fact, it is known as the SFP in European markets).
Enhanced Trigger
The VP9 was designed to have a much-improved trigger over HK's legacy striker gun, the P30, and by all accounts it does. After shooting one at an instructor development course this weekend, the author can vouch for the quality of the trigger: it is crisp with a very distinct audible and tactile reset. This leads to accuracy through consistency, and rapid, accurate follow-up shots.
Fit Your Grip
The VP9 has some other features that appeal to modern hand gunners. First, it is distinctively "not-a-Glock." Some shooters have simply developed "Glock fatigue" and want something a little different. Nowhere is their contrast more noticeable than in the grip. The grip is sharply textured and features finger grooves. Not only that, but it is also very customizable for a polymer pistol. Not only can the backstraps be interchanged, but so can the side panels, allowing you to customize the gun to your hand. While the backstraps are nice, it is important to note that they can also prove frustrating due to the number of ways the grip can be configured. Whether this is a pro or a con largely comes down to personal preference.
Attachment Capabilities
The HK VP9 also has a full Picatinny rail for the addition of accessories. This allows the use of various flashlights, training devices, and other gadgets. Like most modern pistols, the VP9 comes optic-ready. One feature of the VP9 that doesn't get a ton of attention is the twin bumps, one on either side of the rear of the slide. These are to allow a firm grasping surface for running the slide. This is a very functional feature that more handguns should incorporate. The VP9 also has very aggressive front- and rear-slide serrations.
Ambidextrous Magazine Release
One other small (but not minor) feature that is worth pointing out is the magazine release. Though some versions are available with a magazine release button, most have a paddle-shaped mag release behind the trigger guard. This is great in that it allows the magazine release to be ambidextrous. Unfortunately, it is unfamiliar to many American shooters and requires some retraining. This is not insignificant, but it is also not insurmountable; many shooters transition to the VP9 and do just fine with magazine changes. It is worth noting that HK makes a VP9B that has a push button mag release, though it is far less commonly found in the wild. Fortunately, magazines are interchangeable between the standard and B versions.
XS Sights for the HK VP9
The VP9 comes with passable steel sights. However, these can be upgraded by adding a set of R3D Night Sights from XS Sights. XS Sights' R3D Night Sights improve speed of target acquisition, co-witness with your optic, and visibility in all lighting conditions, giving you an edge in any encounter. In addition to the popular R3D, we also sell a Minimalist Suppressor/RMR Height Sight and a DXT2 Big Dot Night Sight for the HK VP9, giving you a number of options when improving your accuracy.
Detailed Analysis: Glock 19
The Glock 19 really needs no introduction. The granddaddy of modern carry pistols, it is one of the most popular handguns ever built. Featuring a polymer frame, the Glock 19 is a striker-fired, 9mm pistol with a 4" barrel and accompanying slide. Based off of the larger, duty-sized Glock 17, the G19 with its shorter frame and slide was designed for concealed carry.
Technical Upgrades
The Glock 19 feeds from a 15-round magazine. It has gone through several iterations or "Generations" as defined by Glock, each offering a variety of upgrades. The most recent, the Gen5 Glock pistols feature interchangeable backstraps, front sight serrations, and accommodations for pistol-mounted optics. The Glock 19 has also moved in the direction of being a more ambidextrous pistol; the magazine release is reversible, and the slide latch is fully ambidextrous.
The Iconic Glock Trigger
All Glock 19s have the iconic, Glock Safe Action trigger. This is a trigger press with no manual safeties to disengage and a moveable element on the face of the trigger that frees the gun to fire. This creates a consistent trigger pull shot-to-shot, but Glock pistols have been known to have pretty mediocre triggers. However, there were changes in the Gen5 update that have really given their triggers a boost. They made some alterations to the trigger bar, changed the trigger spring from an extension spring to a compression spring, and completely re-designed the firing pin safety. This has resulted in a significant upgrade out of the box when compared to older generations.
Improving Your Glock 19 with XS Sights
One feature that many Glocks need upgraded immediately is the sights. Though Glocks can be ordered with steel sights and steel night sights, the vast majority come with cheap, plastic sights. These are fragile and can easily be broken. They are also imprecise, and any rough handling – even holstering – can misshape the sights leading to poor accuracy. Night sights from XS Sights suffer no such problems; they are made from durable CNC machined steel and will last several lifetimes. Not only that, but they are much more visible across all lighting conditions and suitable for defensive applications than even the Glock night sights.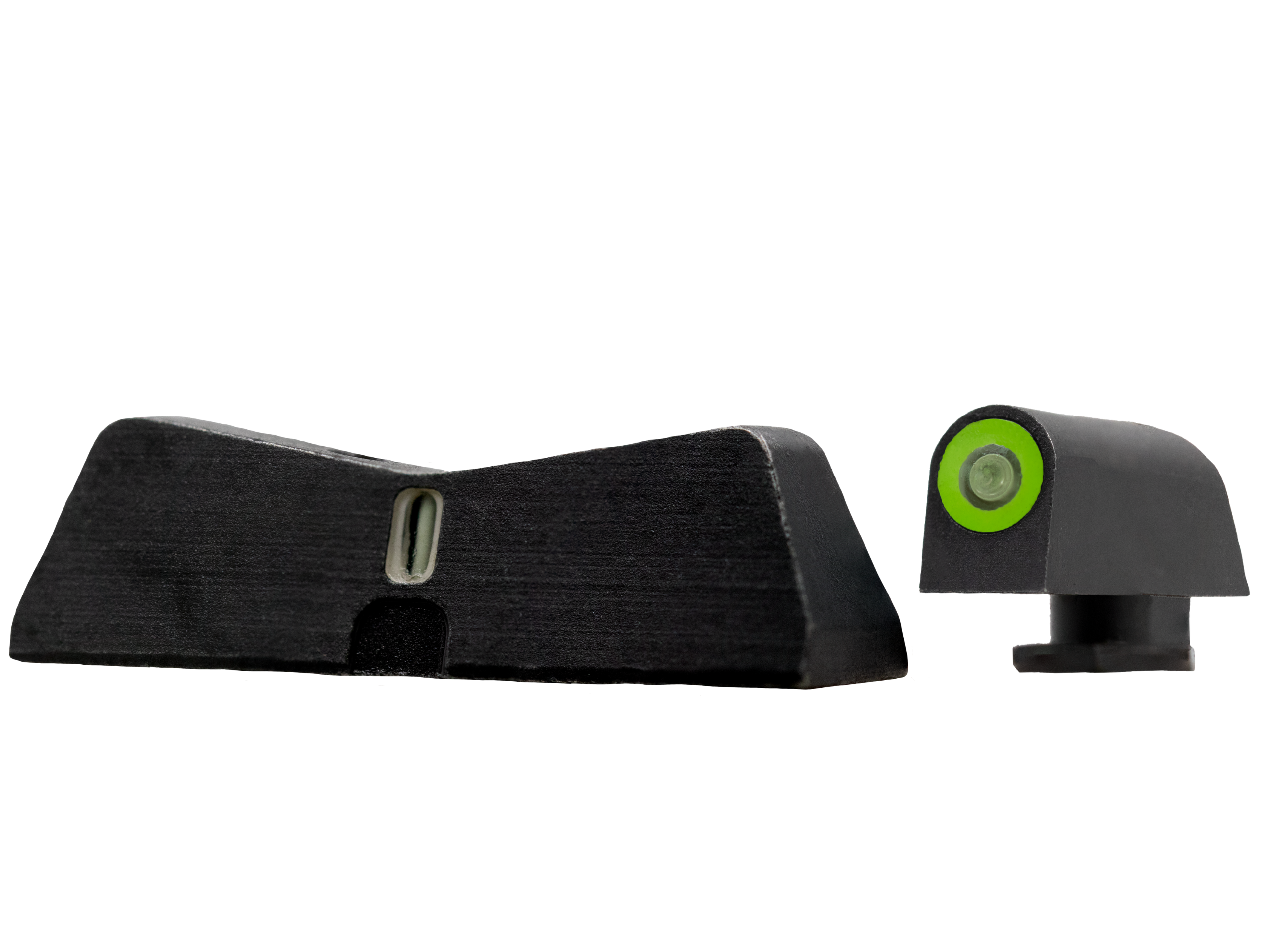 Direct Comparison: HK VP9 vs Glock 19
There are several points of comparison between these two pistols. The first is size and weight. The Glock 19 is smaller than the HK VP9, in nearly every dimension. This includes overall length and height. These are the two biggest factors to consider when choosing a pistol for concealed carry. If concealed carry is, in fact, your primary goal, the Glock 19 is probably the better option between these two pistols. Sometimes bigger can be better. The larger VP9 has a longer sight radius and is heavier. This translates to the VP9 being easier to shoot on the range. It also means that this pistol would perform well in a home defense role where size and weight don't matter as it does for concealed carry.
HK VP9 vs Glock 19: Difference in Feel
The operating systems of these two pistols are nearly identical, however, the operating characteristics are slightly different. Recoil will be experienced differently. The larger, heavier VP9, with its more adaptable grip, is likely to handle recoil better for most shooters. If you are very experienced with the Glock 19, however, the HK may feel foreign and uncomfortable. This factor largely comes down to the shooter's personal preference.
One feature that may be a "make or break" is the magazine release. The VP9's paddle-style mag release is different enough to be noteworthy. For a new shooter who doesn't know the difference, this is probably irrelevant. However, for a shooter ingrained in the modern standard technique, this may be a difficult transition. Again, this comes down largely to personal preference, individual skill, and training.
HK VP9 vs Glock 19: Spec Differences
The capacity of these two guns is different, but not hugely different. The Glock 19 holds 15+1 and the VP9 holds 17+1. Less is more sometimes, but not when we're talking ammo, so the VP9 wins… according to the spec sheets. In reality, the Glock 19 can also accept longer 17-, 21-, and 33-round magazines. Additionally, magazines are widely available and inexpensive for the Glock, something that can't be said for the much less common HK pistol.
This brings us to another important difference: aftermarket support. Purchasing a pistol is to immerse oneself in a system. Not only do you need the gun, but you also need ammunition, magazines, holsters, magazine pouches, sights, lights, and the list goes on and on. Many aftermarket manufacturers support the most common guns because their owners are a large target market. Less common guns can get left out in the cold and it can be hard to find a holster, for instance. The HK is popular, but its popularity is a drop in the bucket when compared to the Glock 19's enormous popularity and commonality.
HK VP9 vs Glock 19: Which is Right for You?
Both the HK VP9 and the Glock 19 are outstanding, military-grade pistols. Both are accurate and reliable, making them more than adequate for personal protection. There are some minor differences: the HK is bigger, has a different magazine release, and a better trigger. The Glock 19 is immensely popular, the "gold standard" of concealed carry pistols, and every accessory under the sun is available for it. To put it plainly, either will serve you well.
A drawback of both is that they come from the factory with sights that leave a lot to be desired. When setting up a gun for personal protection, the ability to shoot accurately is vitally important. You are accountable, legally and civilly, for every round that leaves your chamber, so you need to be confident where they will go. Speed is also important; there are no timers in gunfights, but to quote Tom Givens, "You have the rest of your life to solve the problem."
High-visibility sights from XS Sights are the solution for both the Glock 19 and the VP9. We offer durable, high-visibility, glow in the dark sights that are made in America. They are available in several configurations to suit any user's preferences. Widely used by law enforcement agencies and concealed carriers, XS Sights will get you on target, FAST.